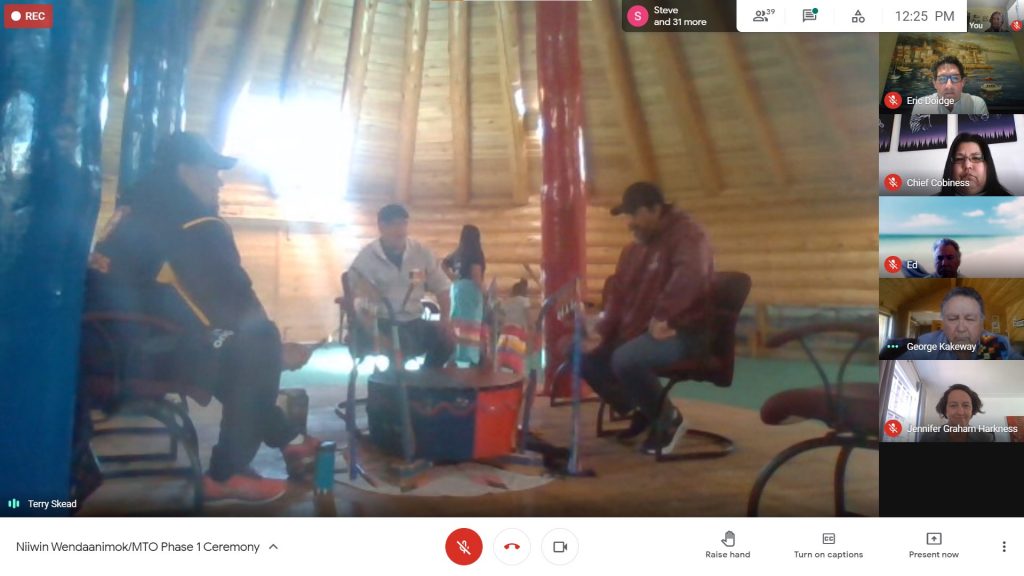 The leadership of Wauzhushk Onigum First Nation, Washagamis Bay First Nation, Shoal Lake 40 First Nation, and Niisaachewan Anishinaabe Nation, collectively known as the Niiwin Wendaanimok Partnership and the Government of Ontario (represented by the Ministry of Transportation) entered a sacred ceremony today, conducted under the law and guidance of the Manito Aki Inakonigaawin. This ceremony confirms the parties' understandings and solemnifies conditional consent from the Niiwin Wendaanimok Partnership to Ontario to enter Anishinaabe territory under Anishinaabe guidance to undertake construction of Phase 1 of the TransCanada Highway 17 Twinning Project.  Ontario also received a copy of the unique Harmonized Impact Assessment.
Rooted in the Manito Aki Inakonigaawin (Great Earth Law), the Harmonized Impact Assessment is based on a ground-breaking model developed by the Niiwin Wendaanimok Partnership that continues to receive national recognition for its innovation in bringing together Anishinaabe understandings and processes with western science to assess impacts and mitigation. "This document tells the story of the Anishinaabeg, the history of our relationship to the land, the skies, the soils, and the waters, but most importantly it was done through ceremony", said Elder and Protocol Advisor George Kakeway. "Under our laws, our ceremonies, we do things right, we are never afraid, we take our time, and we always listen, and that is what we did. It is our consideration of the proposed project, done in our way and according to our laws. This document is the result."
Given the COVID 19 stay-at-home order and strict restrictions on gatherings, the representatives of the respective governments participated in the ceremony virtually.
Over the last several months, the Niiwin Wendaanimok and representatives of the Ministry of Transportation Ontario have been in discussions focused on rebuilding a broken relationship they are confident will be sustainable. "The past relationship was very destructive. It did not work for anyone. It has left generations of damage. But we have now followed our laws, and done things our way, with our principles", said Chief Marilyn Sinclair, Washagamis First Nation. "When we conduct ourselves with respect, honour, love, courage, humility, wisdom, and truth, we know we can have good outcomes".
While significant work is yet to be done, this commitment in ceremony marks a critical step in cementing the trust to carry us forward through the commitments. "Our process, where, as partners we all share responsibility, has produced several innovative, creative ways of working together in a continuing relationship. We've conducted a ground-breaking, award-winning harmonized process for understanding environmental impacts and mitigation measures.  We're establishing an Anishinaabe Guardians Program and contracts and opportunities that set the foundation for the economies of the Anishinaabeg", said Chief Vernon Redsky, Shoal Lake 40 First Nation. "We have revived a process that we know works, an Anishinaabe approach we have always known can work for the benefit of all."
Phase 1 will see twinning of the TransCanada Highway from Manitoba/Ontario border to Highway 673 and is anticipated to start fall of 2021. "By entering into ceremony with us today, MTO is demonstrating that it is possible for us to work together. While we still have a very long way to go, we know we can make the journey together", said Chief Chris Skead, Wauzhushk Onigum First Nation "Our Elders have given MTO moccasins to remind them of this journey we must stay on together." Phases 2 and 3 are planned to extend from the Highway 673 to Kenora, but consent from the Anishinaabeg for Phases 2 and 3 is still pending.
"From time immemorial, our Elders have relied on the Manito Aki Inakonigaawin – our Great Earth Law to guide decisions in our territory. When we follow the laws of the Earth, the laws of the Creator, when we make decisions through ceremony, we know these are good decisions", said Chief Lorraine Cobiness, Niisaachewan Anishinaabe Nation. "Its time to do things right, its time to rebuild our economies".
Media Contact(s):
Somia Sadiq – Somia.sadiq@narrativesinc.com
Cell: 204-807-0339
Cuyler Cotton – dovetailresources@gmail.com
Cell: 807-468-5393